KKK

Dlouhá No. 91
Description of the Building:
A small one-storey house with a Classical front and a volute gable with a tympanum. The ground floor is created by a barrel-vaulted section with a staircase leading to the upper floor. At the back there is a small court wing. The house has a saddle roof which is perpendicular to the street front.
Architectural and Historical Development:
The house is of Gothic origin, which can be seen on the stone vaulting of the entrance hall on the ground floor. The house was significantly reconstructed in the Rennaissance period, when it was separated from its neighbour No. 92 in 1581. The first floor with ridged vaults originates probably from that time. Further reconstructions were carried out during Classicism, when a newly designed front and division of the entrance hall was created. Some division walls were removed recently and in 1996 the facade was newly renovated.
Significant Architectural Features:
sizeable vaulting of the entrance hall
ceilings of the upper floor rooms
a mural of the Virgin Mary of Sorrows on the facade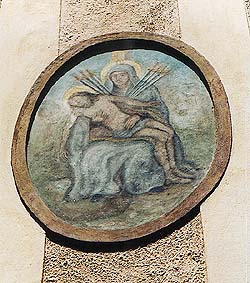 History of the House Residents:
In 1581 a furrier Tomáš Höslinger bought a part of his house No. 92 from Jiří Kunsteter (Gunsteter) and changed it into a detached house. There was a well next to the house. Later, probably in 1586, the house became the property of a Rosenberg accountant Matyáš Fuch of Fuchýřova, who paid 60 three scores of Meissen groschen for it. After Fuch´s death in 1598 Peter Wok von Rosenberg sold it to his footman Jiří Firbic, who sold it in 1606 to Anna Angstwurm for 110 three scores of Meissen groschen. She kept the house until 1619, when a butcher Tomáš Landsknecht came in. In 1636 the house was bought for 185 three scores of Meissen groschen by a blacksmith Řehoř Precht. Two years later Mates Pirner moved there, followed by Jan Jiří Mezihorský in 1660. From 1708 the house belonged to a hatter Ondřej Hoffrichter, who paid 350 Rhinish guldens for it. His family stayed in the house for nearly one hundred years. In the years 1807 - 1822 Kašpar Gloss owned it, followed by Albert and Kateřina Kramlinger. They lived there to at least the 1840s. In 1928 the owner Alfred Hohenberger had one ground floor window changed into an entrance to the shop which he opened in the house.
Present Use:
Historical book store