KKK

Dlouhá No. 30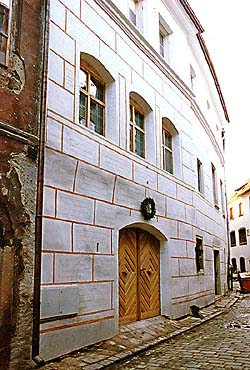 Location:
Dlouha no. 30, house "at the crab"
Object description :
Two-storey townsman house. Cellar, ground floor and the first floor originally Gothic, radically rebuilt during the 16th Century. The second floor added on in 1871. Renaissance frontage reconstructed in 1990.
Cellars:
originally Gothic, with added renaissance arches and intact pebble paving
Ground floor:
renaissance rolled arched areas with lunette sectors and high crests. In the middle of object rests of original stairway.
1st floor:
renaissance interiors with cut timber ceilings from the 2nd half of the 16th Century.
By the courtyard frontage added on stairway and glassed-in balcony from the 2nd half of the 19th Century. There are conserved building elements from the whole period of historical development in the house, for example plaster, paving, wooden floor, bars, doors, tile stove etc.
Architectural and Historical Development:
The building is without a doubt an original Gothic construction. Renaissance alterations include the layout of the ground floor. Diving walls on the ground floor and the layout of the first floor are a result of alterations made in 1870. The structure was respectfully restored to its original Gothic appearance in the 1980s and 1990s.

History of the House Residents:
From 1459-1466 this building was owned by Prokop Brnec and in 1484 a brewer named Havel is mentioned as a possible owner. From 1500-1539 the building belonged to the weaver Jan Brnec (Brmec). When weaver Jan Janek died in 1539, his widow Magdalena Brnec, also known as Brmcka, continued to take care of the building until 1545 when she sold it to the brewer Vanek. Vanek, who was also known as Vaclav Richten, was the son-in-law of Sengera of Široká No. 77. Vaclav was referred to as Vanek Schon Vanek after his father-in-law. The last record of Vanek the brewer in this building was in 1575. In 1584 Vanek´s widow Barbora sold the building to Krystof Lepsi and moved to Široká No. 52. In 1592 Krystof Lepsi married Barbora\'s daughter Vorsila. From 1651 the malter Maxmilian Ziegler lived here. In 1667 a dangerous fire broke out in the house. Ziegler\'s family lived here until about the year 1712. Part of the house originally belonged to the neighboring house Dlouhá No. 31 until 1694 when Ursula Ziegler sold this part to the tradesman Klaudio Jurat. The house was owned by the tailor Jan Braunhardt from 1712-1732, then from 1767 to the beginning of the 19th century to the Kobinger family.
Present Use:
R - Gallery