KKK

Dlouhá No. 100
Description of the Building:
One-story building divided into several contoured pieces. The exterior walls of the entire building are smooth, without relief sculptures or ornaments. The front facade is topped off by a gable wall which conceals the saddle roof. At the corner of the building there is a stone corbel which helps support the first floor of the structure. The right section of the building protrudes forward from the remainder of the facade, and is a remnant of the inner town gate that was formerly located here. The layout of the ground floor is arranged in two deep tracts with a central hallway with staircase.
Architectural and Historical Development:
The original structure was built in the Middle Ages as an addition to the town gate and fortification that existed here at this time. Considerable reconstruction work was made in the Renaissance period. Some of the vaulting and the joisted ceiling with plaster supporting girders in the corner room on the first floor remain well-preserved from this period. During Classical renovations some of the rooms were fitted with flat vaults. At the end of the 1980s the facade (which was created upon the destruction of the town gate which was originally attached to this front wall) was restored to is Renaissance and Classical appearance.
Significant Architectural Features:
Remarkable sgrafitto work on the front and side exterior facades with a course of a carpet design which was restored according to the original model that lies underneath layers of the facade
Preserved western wall of the former town gate
Vaulting in various rooms in the interior
Joisted ceiling with plaster supporting girders on the fist floor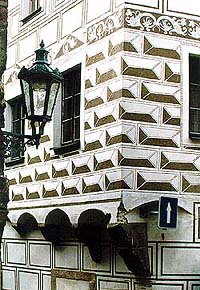 History of the House Residents:
The first known owner of the building was possibly a weaver named Petr in the 1590s. In 1594 the building was in the hands of Regina Wirtenberger, who bequeathed the building to the town of Cesky Krumlov. From 1614 a town clerk named Adam Krystof Klastersky lived here and from 1639 the building was inhabited by a painter named Jiri Sporeigl. In the year 1676 a verger Jakub Koydel lived here and in 1748 a baker named Vaclav Mayer lived and operated a small bread shop in this building. This bake shop was then used by his predecessor, baker Vaclav Leitner, whose family lived here until the year 1766.
Present Use:
Tourist Hostel KČT TJ Start, Rožmberk nad Vltavou
Unios Tourist Service - shop and change office, refreshments