KKK

History of Graveyards in Český Krumlov
The oldest graveyard in Český Krumlov used to surround the parish church of St. Vitus (St. Vitus Church in Český Krumlov). The entrance led over a covered stone staircase built by Jetřich Slatinský of Slatinka, head of municipal guards in Český Krumlov, in approximately 1589. A city wall erected up along the Vltava river from the inner Kajovska Gate to Upper Gate stood as the southern part of the cemetery wall, while the eastern and northern parts of the cemetery were surrounded by parish and curate buildings. St. Geronimo´s chapel, founded in 1389, stood by the western side and its main altar topped the charnel.
| | | |
| --- | --- | --- |
| | | |
As instructed by the archbishop´s office in 1697, no cattle, poultry or other animals were allowed into the cemetery; neither was laundry or clothes drying or using the cemetery for any secular purposes or activities. In 1678, the archbishop of Prague set a rule for the St. Vitus church that four Sundays in a year, after dry days when morning prayers were over, a procession would be held there, graves would be sprinkled with sacred water and incensed, believers would stop by the charnel to sing psalms and pray for deceased benefactors and donators while the bells would ring out. The rite would be repeated the following Sunday as well and end up at the main altar; a festive Requiem would then be served on behalf of those departed to God. Burials were still carried on in 18th century. The graveyard closed down in 1885.
| | | |
| --- | --- | --- |
| | | |
In 1585 the graveyard was enlarged with a space located by St. Martin's Chapel in Český Krumlov right behind the Jesuit Garden on the other side of Vltava. Both Catholics and Protestants shared the place from the very beginning. As the religious situation worsened, however, Catholics refused to let Protestants to bury their deceased there. These disputes were essentially ended only after the town became completely Catholic after 1620. In 1892 the St. Martin's cemetery closed down. Having joined the former Jesuit Garden, it resulted in the establishment of a Town Park in Český Krumlov in 1908.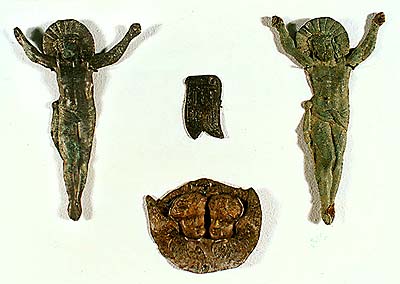 The current graveyard with its eclectic ceremonial hall was founded shortly after 1890 and is located on the eastern edge of the town's developed area.
Further information:
Old Tombstones in Český Krumlov
(jh)