KKK

Archaeological Research in the Brewery Garden
In connection with the construction of a town collector in 1991 and 1992, salvage archaeological research was carried out in the Brewery Garden in Český Krumlov in Latrán, near the Vltava River. The research significantly contributed to the clarification of the question concerning the settlement of Český Krumlov before its recognized beginnings.
Among the most significant discoveries was a finding of remnants of a Slavonic half-underground house (slightly recessed residential object) situated against soft river sand. This half-underground house had been caved in by the destruction of stream boulders and quarry stones among which were found pieces of daub (clay wall plaster) with imprints of wood construction and shards of broken vessels. The whole object is possible to date back to the 8th century. Together with slightly older findings from Purkarec, this is one of the oldest pieces of evidence of Slavonic settlement in Southern Bohemia.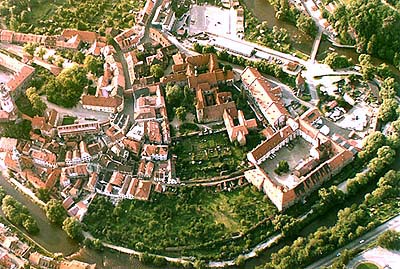 During the research, remains of a settlement from the Younger Stone Age (6 000 years ago) were also found. Remnants of pottery and stone instruments give evidence of the existence of a small settlement. In the whole area of Southern Bohemia, we know of only four settlements of that time. The findings from Český Krumlov are the southernmost evidence of an Old Neolithic settlement in the area of Southern Bohemia.
On the bank of The Vltava River were also discovered stone artefacts of opal, quartz and crystal that date back to the Older Stone Age (12-10 thousand years B. C.). Findings hint at the presence of a settlement that had something to do with the control of the river flow and possibly with fishing. It was likely a short-time settlement of hunters and fruit-gatherers in this local area.
More archaeological findings date back to the origin of the town or to the following centuries. During research, a culture layer was uncovered with bits pottery, animals bones and clay plaster from the 13th -15th A. D. Along the river banks were found thick layers of refuse from the 18th - 20th century that were placed here to reinforce and level the river banks.
Further information:
Český Krumlov Castle - Prehistory
Prehistorical Settlement of the Castle Hill in Český Krumlov
(pb)