KKK

History of Jews in Rožmberk nad Vltavou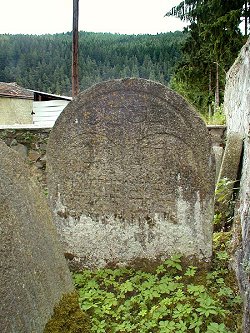 When the Jews settled for fist time in Rožmberk nobody knows for sure. German historian Alois Harasko shows, that it was "already during the rule of the Rožmberks". He uses the dispute from the year 1378 among towns Linz and Freistadt. Contention of this dispute was transportation of "Jewish meat" from Rožmberk into Linz. At this way was missed Freistadt, where the toll was paid into town cashbox. In the "old" Jewish cemetery is remainder of German written desk, from which one can read, that Jewish cemetery was Rožmberk found before a year 1480. In journal Czech - Bavarian lookouts 20/1994 is written, that "Jews came into Rožmberk in the year 1670 after being forced to leave Vienna by an imperial order". In Linz judgement rolls are in connection with breaking of rules for market in the year 1676 named two Rožmberk's Jews Joachim Lobl and Alexander Korb. In fund of the Buquoys nobility are in Linz judgement roll named in the year 1686 "one Hebrew from Rožmberk", in the year 1706 Salamon Marian, in the year 1712 Marcus Marian and in the year 1738 Ascherl. Altogether they were Jews from Rožmberk.
The oldest tombstones at the "old" Jewish cemetery in Rožmberk nad Vltavou are dated back to 18.century. On one of them from the year 1793 is Hebrew notice: "here rested David from Linz. He died in midway of his years, Eve became his fate". David was written Isak Miskowitz, he was a Rožmberk's Hebrew, who was killed in Linz market place. Together with him there had been at the Rožmberk cemetery buried until the year 1863 every Jew from Linz. On that year was in Linz established the Jewish cemetery. At the end of 19th century burying ended up at this "old" Jewish cemetery in Rožmberk and the "new" Jewish cemetery was built near the road to Český Krumlov. The old Jewish cemetery in Rožmberk was declared as a cultural relic and it was respected not only by Jews, but also by Christians. It is proven even by photographs from years 1930 and 1938. Rožmberk's native Arthur Gintner remarks: "in the year 1939 went a crowd of young striplings from Rožmberk to the old Jewish cemetery, overturned there the old gravestones and dishonored others". It is likable, that they were punished and: "for this act they had to exert a different work for community". At present there is at: "old" Jewish cemetery just about thirty Hebrew gravestones.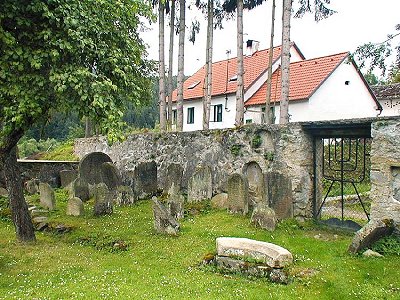 Rožmberk was known in to Jews from the whole Austria as a parochial town with enlarged Jewish community, which had the lasting seat near right shore of Vltava below castle, where it was called the "Jewish town". According to Topography of J. G. Sommer lived in Rožmberk in the year 1841 four Jewish families. During building of the school in Rožmberk in the year 1880 was made a notice into cornerstone, in which is written: "there are 198 houses in town, in them live 1.454 Christians. With them live 72 Israelites and one rabbi, who cares about their law and customs". Jewish houses have had the Romish numbers, which only in 20th century were re-written by Arabic digits. Around synagogue with later number 80 can be recognized "old Jewish numbers" today's Nos. 75, 78, 79 and 81. At the free place beside the hospital in No. 75 are evident the remains of burnt down Jewish house. Early settled Jews used to tell, that here stood an original synagogue". The synagogue according to Cechner has been in Rožmberk since 17th century and burned down in the year 1846.
Synagogue in today already destroyed house No. 80 was building: "externally without any decoration, two-storied, with three axes and posed open stairs. Inside was hall with three windows and size 7 x 10 meters, covered by Czech vaults among bands. In the western field was all over the width of hall an empora". Tabernacle in altar with two wooden columns with beam has had an baroque shape from the end of 17th century and later sideboards were made in the end of 18th century. A curtain 120 x 180 cm in front of the ark had had an older yellow silk gold and silver woven Renaissance flange five centimeters broad, stitched to newer red velvet. In the middle of it used to be a yellow sheeting with Hebrew notice. All three chandeliers were made from brass and coming from 17th century. One of them had a diameter of 50 cm and it was 55 cm tall. On top of it was a horsemen, who sat on eagle and kept a scepter in his hands. Next two chandeliers were octagonal of diameters of 60 and 75 cm. Synagogue had deep cellars and in the second story used to be an apartment of rabbi. There used to be also a bakery for Jews. Wall "Misrach" wasn't as in Jerusalem turned southeasterly, but southwest.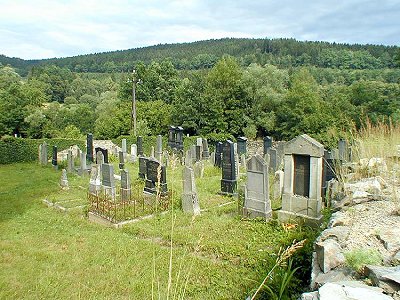 Until the year 1917 lived in Rožmberk rabbi Glanzberg, who not only exercised Jewish sacral rites, but also taught Jewish children Hebrew and religion. After his death did not the office of rabbi exist any more due to small number of Jews and reading at divine services and teaching of children took over Max Allina, Heindrich Sternschein and Sigmund Holzbauer. Holzbauer pursued a sight at slaughtering, so everything went "kosher". The inner equipment of synagogue was on September 1938 quite destroyed by the SS troops from Linz. During WWII was synagogue used for living, in cellar was stocked coal. After a year 1945 was in the upper part of it established a locksmithery, which was closed at the beginning of 60's. In the year 1966 was building of synagogue in Rožmberk destroyed.
At the "new" Jewish cemetery in Rožmberk was among 97 preserved tombstones the grave of Max Allina, who died on 5. November 1919, 77 years old. The family Holzbauers is here "freely substituted". There is also and simple cast-iron table, which commemorates the deaths of Ernest in concentration encampment Osvětim and Robert and Bedřich in concentration encampment Dachau. I have read about Heindrich Sternschein from reminiscences of son of his, which studied in Switzerland and was a University professor in Canada. He was known in Rožmberk as Dolfi Sternschein and he called himself before his death the "last Rožmberk Hebrew". From his extensive reminiscences it is possible to quote: "behind the ancient times, as my father was younger, there has been in Rožmberk a Jewish school - ješiva. Children from four to ten years were being taught the basis of tora, talmud and other Jewish holy books. They also learned to sing the old Hebrew devotions in right accent. When my father died on July 19. 1935, over thousand people, Christian and Jews, came to his burial to give him the last accolades. Tears always come up to my face, when I commemorate, that so he missed a fate of my mother, who died in Osvětim's gas chambers. Together with my mother were murdered 84 of my uncles, aunts and cousins. Together with my mother six millions of Jews were killed..."
(fs)
Further information:
History of the Vyšší Brod Region
Rožmberk nad Vltavou
History of the Church in region Český Krumlov