KKK

Karel Krob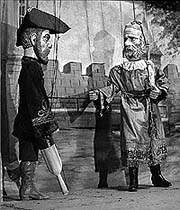 Karel Krob (1904 - 1974) spent most of his life in Vyšší Brod in the Český Krumlov region in his family home no. 93, even though he came from Kladensko, where he was born in the county of Rozdělov u Kladna. He originally studied to be a cobbler, but as this profession didn\'t earn much, he later worked in Kladensko\'s Poldovka, working most of his life as a bricklayer. After the Second World War, in connection with the resettlement of the border areas, he came from Kladensko to the Šumava area, Vyšší Brod, where he worked on the construction of the Lipno electrical power plant.
As a boy, he was fascinated by the world of wandering puppet theatres, and dedicated all of his free time to woodcarving and producing puppets - traditional Czech marionettes from linden wood. He drew on the tradition of previous Czech puppeteers, carving his figures as he remembered them from the puppet shows of his youth. In the beginning he produced puppets and wooden figures only for the pleasure of his own children, acquaintences, and friends. In Kladno he created little puppets for family theatres. Later he carved out puppets on order for puppet ensembles, including the Czech children\'s favorite the Spejbl and Hurvínek Theatre as well as the Kopecký puppet dynasty. Today his works are held in several museums and private collections as well as in puppet ensembles. He also stood at the creation of the Vyšší Brod Puppet Ensemble, for which he created "wooden actors" and proposals for scenes and wings.
The puppets of Karel Krob are in the collection of the Regional National History Museum in Český Krumlov (around 50 items) and in the Museum of Puppet Culture in Chrudim.
(mj)