KKK

Vyšší Brod and the Thirty years' war
The thirty-year war had begun on 23. May 1618 by Prague defenestration. For Vyšší Brod cloister and especially its subjects began this long sad time, in which they had to suffer providing supplies and accommodation for army, robberies and depredation, whether done by Czech or imperial troops. Already on 5. July 1618 requested the colonel of cavalry Ulrich von Kinský from cloister about 400 strikes of wheat for the horses. Such appeals, which had to be fulfilled under threats, were repeated all the time and more often. It was clear, that cloister and pass in Vyšší Brod will soon become the place of accommodation and scene of fights between Czech and imperial troops, so on 3. October 1618 left the prior Andreas Pachmann monastery with most of monks. He escaped into secure Austrian cloisters. Abbot Paul III. Farenschou and several monks remained in cloister.
On 12. November 1618 was town České Budějovice engaged by the imperial troops of marshal Karel Bonaventura of earl Buquoy. Also in Český Krumlov was garrison of the imperial troops and on 18. November 1618 Rudolf of Oppenschtorf wrote from Upper-Austrian Leonfelden, located several kilometres from Vyšší Brod to earl Buquoy, that His imperial troops penetrated to Vyšší Brod pass. Here Rudolf of Opperschtorf found out, that into Vyšší Brod will arrive Czech troops and provincial recruits from Rožmberk. He himself has to fall back and he made orders that marshal Buquoy shall not be sent on the way. Commander of Czech troops Heindrich von Schlick (Jindřich Šlik) indeed on 18. November occupied Vyšší Brod and found an accommodation in Vyšší Brod cloister together with four cornets of dragoons and three cornets of infantryman. It were 400 horsemen on horses and 700 infantrymen. Czech troops defended Vyšší Brod pass against imperial troops from Austrian side and from Krumlov. On 19. November 1618 requested skipper Buquoy the support of force by five hundred men, he wanted to engage all roads to Austria in Vltavice, near St. Tomáš and near Vyšší Brod. His troops occupied Vítkův Hrádek, which they however left on 29. November. The imperial troops several times charged from Krumlov and at the end of November they came to Rožmberk.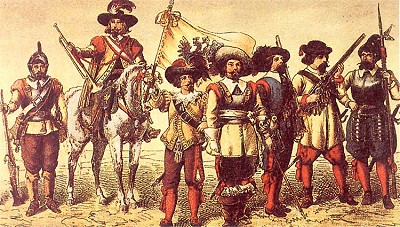 Form this time we learn, that "Joschův" mill was plundered, Georg Lichtenberger from Rybářův court killed, Weihmuhle is denoted as an empty farmstead and in Bystrá broke out the fire. While Jiří Záloha and Miroslav Volf write, that Czech troops left Vyšší Brod on 29. November 1618, Kaidl documents 6. December. Czech troops alternated the imperial ones. 300 horsemen were commanded by Schmolinský and with him came a hetman Augustin Hock with two battalions of infantryman and 200 horsemen. Both units of the imperial army were accommodated in Vyšší Brod and in cloister. Regarding a barge time marshal Buquoy wanted, with the help of bishop Leopold, to persuade the abbot from Vyšší Brod Paul III. Farenschau, to left a cloister and relocate to Krumlov. However he remained in cloister in Vyšší Brod.
In morning of 3. December 1618 between seven and eighth o'clock was by division of soldiers plundered village Kamenná. They chopped the chests, took all clothing and drove away 84 heads of cattle. Which army it was, whether Czech or imperial, is not in letter full of plaints from Vyšší Brod abbot written. Cruel winter in the year 1619 survived both war parties in relative peace, but already on 28. April 1619 Protestant troops led by hetman Hohemeck charged again, pushed out the imperial troops from cloister and from whole region, occupied Rožmberk, spoiled and plundered the whole area. How writes August Sedláček, on May 1619 attacked marshal Buquoy Rožmberk for the first time and "did plunder and burn out the town". Castle stayed at that time in possession of Czech troops, but during the attack of Buquoy on September 1619 two Silesian guidons of Czech foot-soldiers surrendered and imperial soldiers got a great prey, especially corn. Loss of the Czech troops in Rožmberk resulted to compulsory departure of Protestant troops from Vyšší Brod. And so were on September 1619 in Vyšší Brod monastery changing armies again. It wasn't however for long time, because at the end of year 1619 came to Vyšší Brod Czech troops, commanded by Jindřich Slik.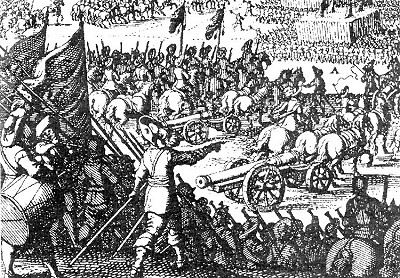 He occupied Vyšší Brod and cloister and captured to imperial troops 42 wagons and above all seventy thousand dollars. German chronicle of Vyšší Brod on the page 134 records taking ten thousand heads of cattle, but this issue is certainly exaggerated at least of one zero. Czech troops of Jindřich Šlik did not stay in Vyšší Brod monastery too long, because already on 14. January 1620 Neapolitan troops led by skippers Mario, Scipio and Domenico obtained the area back and there were accommodated in cloister 300 Neapolitan infantrymen. By sorrow, worries and troubles worn out abbot Paul III. Ferenschou died on 23. January 1620 43 years old. At his death was present only the prior Gangolph Scheidinger and two monasterial priests. The rest of monks left the cloister for security. Prior announced the death of abbot immediately to Wilhering and pled the Wilherings abbot Georg Grill, to come as soon as possible, because there was a danger of the cloister being plundered once soldiers learned about death of abbot. Wilherings abbot arrived instantly and did the mourning celebration for a dead abbot, which was buried in front of stairs of presbytery. On the last January of year 1620 the Wilhering abbot applied to the emperor Ferdinand II., to be allowed to elect a new abbot as soon as possible. About death of Vyšší Brod abbot learned also provisor Georg Urat, who wanted to be a controller over election of new abbot. There were another negotiations, which ended up by result, that election was held on 9. June 1620 under lead of Georg Grill from Wilhering. The twenty-seventh heel of Vyšší Brod became the prior Gangolph Schneidinger, who was put into new function on 10. June 1620. On 11. April 1620 were Neapolitan soldiers in cloister alternated by Valons with skippers Petr Frey and Karel Dankart. Six days after the election of abbot Scheidinger, the rector in church was cut into pieces just before festive procession, which he wanted to organize and whole church interior was destroyed.
On third August 1620 sent abbot Gangolph Scheidinger a beseeching request to imperial general Don Balthasar against bad treatment of subject in Hořice. Hetman Georg Bartinuji yoked people with asses into rolling stocks, mauled them ghastly, destroyed their cases. Abbot pled general, to reprehend the hetman for his misbehaviour, so the poor people could stay in empty houses and yards. Till 25. September 1620 had the cloister to pay in cash or perquisites 7 197 golds. And as if that atrocities weren't enough, for example Driesendorf was only during years 1919 and 1620 plundered twelve times by troops. After numerous struggles occupied imperial troops the whole southern Bohemia and development of events finished by the battle on Bílá Hora. But even before, on 6. February 1620 issued emperor Ferdinand in Vienna a document, whereby he thanks to marshal Karel Bonaventura Buquoy for his services and donates him hereditary "manors Rožmberk, Nové Hrady, Libějovice, Žumberk together with parts Chvalkovský and Cuknštein". However Buquoy did not much use his new estate, because he died during the siege of Nové Zámky in the year 1621. Years 1621 till 1623 were in region Vyšší Brod calmer, so were step by step into monastery returning the monks.¨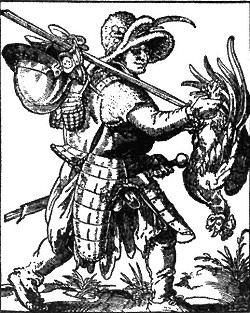 However already on 7. January 1624 came into Vyšší Brod cloister a company of soldiers commanded by Bavarian hetman Hermann Wippart. First came 300 dragoons and later to them acceded another 200 gunners and musketeers. On second July 1624, after Wippart with his troops retired from cloister and from Vyšší Brod, wrote abbot Gangolph Scheidinger in his accusatory leaf to Bavarian provincial judge the acts of this commander and his soldiers. Among others he writes: "Although the subjects were giving him everything, what he requested, nevertheless they were treat by beating and whipping. Ladies and girls were publicly dishonoured and other people were preyed, that they could have only a bread from pollards. The corporals were commanded by Wippart to burn houses down, when the people did not lead off the supplies for troops". That wasn't enough, so on 9. June 1624 soldiers set at midnight Vyšší Brod on fire, sitting on horses and with pointed pistols dispelled the folks, who wanted to extinguish and bawled: "It must be burnt from another side as well and let them burn out for devil". Sodiers tore up the water piping from public fountain and water supply filled by mold. So seventeen estates burnt down with all inside and damages of nine till ten thousand golds were done. On 13. November 1624 was Hermann Wippart arrested in Schording upon Inn. From 19. October 1624 into 15. February 1625 was in Vyšší Brod garrisoned colonel Laurenz von Medici with his dragoons. Together he however had only 23 horses.
During the thirty years' war launched out in neighbouring Austria insurrection of people led not only by farmers, but also townsmen. So in July 1625 came to Vyšší Brod cloister a company of infantrymen and perhaps thirty horsemen from regiment of Hans Preiner. Commandants were hetmans Oxl and Reibitz. From correspondence of the abbot Gangolph Scheidinger we learn, that in monasterial villages were stabled over 180 horses, "although the farmers there are poor". The insurrection however was soon defeated, it was cleared on November 1626 and entrants were hardly punished. In the year 1627 caused Bavarians housed in Austrian Leonfelden at reeve's house Kapličky near Vyšší Brod by a robbery and spoil the damage 1.804 golds. Vyšší Brod abbot Gagoph Schneidinger did not serve his office in even a single day of peace, because he died on 23. March 1631. Nor new, twenty-eighth abbot Georg II. Schroft did not live to see an end of the thirty years' war. Though thirty years' war was not over yet, already now died many inhabitants of area. The villages were plundered, houses were destructed or stood desolated. The war affected economy and many people lost all their possession. Through land and county went hunger, misery and suffering.
Another great privation to region Vyšší Brod came from the year 1632. At that time were strolling through the county large military units and another duty of cloister was to nourish 2200 soldiers in České Budějovice. From 24. January 1633 were in Vyšší Brod cloister, in Vyšší Brod and in its vicinity accommodated the army of colonel earl from Rittberg with 624 horses. In letter from 31. April 1635 writes Vyšší Brod abbot Georg II. Schroff to the visitor Johan Greifenlels a gloomy wartime picture of cloister and region, when it became a seat of regiment of Galli de Hasschen and eight hundred soldiers consumed all corn. In the year 1636 were in territory of cloister already seventy seven deserted peasant courts and in the next year a military control ratified, that 236 subjects in area of cloister Vyšší Brod cannot deliver any further food supplies to military. That is why the imperial general Don Balthasar from Marradas invested on 26. June to territory of Vyšší Brod cloister so-called "Saloagnardia", whereby he liberated it from further duties for military. Nevertheless on 6. March 1640 company of dragoons of colonel Kinský occupied Vyšší Brod and and remained here till 21. April 1640. On this day was in Vyšší Brod an imperial Field-Marshall Caretto von Millesimo, who in writing took away from cloister any further duty accommodate here soldiers. In spite of this command we find even in the year 1640 housed an artillery and in the year 1641 troops of earl Piccolomini. So on 3. October 1642 wrote the Field-Marshall Rudolf von Colloredo, count from Wallsee in Prague for monastery the third "safe-conduct". Even before, on 11. August 1641 resigned the abbot Georg II. Schroff on his abbatial office and on 22. October died.
No wonder, the election of new abbot, who was like the fourth getting into office during war, wasn't simple, but in the end was elected the twenty-ninth Vyšší Brod abbot just thirty-one year old Georg III. Wenddschuh, who was born in Třeboň. Also Vyšší Brod reeves during the thirty years' war were four. Paul Durmuller, Christopt Kader, Johann E. Weimann and Georg Martetschlager. From the year 1608 were in Vyšší Brod the chief magistrates, so let us learn about their names from beginning of the Thirty years' war. Simon Malschinger, Simon Mader, Balthasar Haider. Meanwhile the chief magistrate was mayor of Vyšší Brod, the reeve was in charge of surrounding villages. On 26. July 1645 came into Vyšší Brod cloister and near vicinity the imperial troops commanded by lieutenant Matthias Gallas "in force of several regiments". Because regiment used to have about thousands soldiers, no wonder, that "soldiers consumed all-new crop, and when nothing was left on 30. August the imperial troops of Gallas towed away".
Campaign of Swedish into Bohemia outworn by its destructiveness all previous wartime matters. On 9. May 1648 came to Vyšší Brod from Hummenistriský regiment 230 infantrymen, on 12. May 1648 were in Studánky housed 92 artillery horses, in July 1648 came Peter Jobst from Gotzský regiment with his platoon and on 31. July 1648 arrived the whole Buchheimský regiment. In August 1648 came into Vyšší Brod cloister the Luxemburg artillery and other soldiers were in Mlýnice, Drkolná, Horní Přísahov and Studánky. During the whole September 1648 marches went on. On 20. September 1648 the unit from Verona, which used to camp in Vyšší Brod, left in direction to Rožmberk, however it returned soon due to a fear from enemy. Swedish bursted against the imperial troops from Kraví and Olivová hills and Buchheims cavalry fled. At half past four afternoon of 20. September 1648 came first eight Swedish cuirassiers in front of monastery in Vyšší Brod. They forced an opening of harrow and took away from cloister twelve horses. After them came about two hundred Swedish soldiers. They wanted to seize an abbot Wendschuh, but he left through Loučovice into Austrian Linz. General Wirttenberg is said to declare, that as far as the abbot falls into his hands, he will "get out of him so many thousand ducats, how many he has abbatial infulas". On the following day, 21. September 1648, however Alfred Wirttenberg accepted in Krumlov under the Swedish wardship all cloisters in Krumlov manor. Swedish also plundered Rybářský court and Studánky. Although the Westphalian peace was negotiated already on 24. October 1648, in Vyšší Brod was celebrated a votive divine service in the year 1651, because "passages of soldiers were going on".
(fs)
Further information:
History of the Vyšší Brod Region
Vyšší Brod
Vyšší Brod Monastery
Rožmberk
Vítkův Hrádek