KKK

The Bath custodians in Vyšší Brod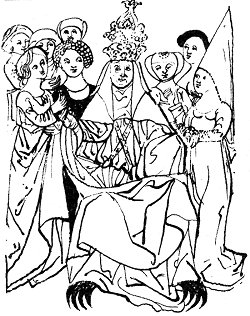 In 16th century has had every town its own baths. The exceptional wasn't nor Vyšší Brod. The bath was located here in house, which later got a No. 88. In this house were not only placed the baths, but lived here also the bath custodian, who was called "lazebník". It is proven among others by a fact, that in the year 1530 is in Vyšší Brod urbary mentioned the Bader, in Czech language the bath custodian. After him is here in year 1537 introduced Wolfgang Bader and from the year 1574 till 1596 Hans Neilinger. The baths were placed in this house at least till the year 1827, when is here introduced Andreas, the last from the generation Haas.
The baths in Vyšší Brod were possession of the town, which rented it to the bath custodian into a hereditary possession. Visitors were seated in big oval wooden barrels, which were filled with hot water and visitors were after setting covered by boards so only a head was stuck out. The hot water could in this way keep its temperature as long as possible. Into the bath were added various fragrant "seasoning", mostly dried thyme. In order to create a steam, the bath custodian inserted into a kettle with water hot chesils or "red-hot iron staff". During bathing or after it was bath custodian bringing to guests food and drinks. In a German chronicle of Vyšší Brod is stated a remark: "Baths especially on Saturday are being very visited. For poor people and pupils were made special baths with beer and bread. For that they had to pray for the dead". It was called the Seelbader, the souls' bath. In the bathhouse were located two more rooms. One was called "zuvadla", where the visitors were taking off and shedding. In the second one were the bath custodian or his helper - dyer - shaving and cutting. At the same time the blood-letting was practised here in spring and autumn.
The baths also used to be a place where the guest found a company of female bath custodians. I have found in the Jenský codex a picture of women's gambol in the baths. When on Saturday before the St. Barbora of the year 1608 issued the Vyšší Brod abbot Paulus Farrenschon "articles and orders of town Vyšší Brod - How should behave every citizen", he wrote in introduction: "Those here have been valid already for years and they now were sealed". Among 63 points is interesting No. 61: "Who is a bath custodian is obliged, to open the baths for public on every customary day. The bath custodian is also obliged to set up a cellule, in which can women dress and uncoat themselves".
(fs)
Further information:
History of the Vyšší Brod Region
History of Guilds and Crafts in the Český Krumlov Region
History of Guilds and Crafts in Český Krumlov
Economic History in the Český Krumlov Region
Vyšší Brod