KKK

The settlement of Hruštice called Václavova Lhota
The House of Vítkovci and the Church authority shared the wooden area between the town of Vyšší Brod and the village of Černá v Pošumaví during the Vltava river-left site settlement. Before the Castle of Rožmberk or the Monastery of Vyšší Brod were established, there had been an earlier settlement near Frymburk around the year 1234. Antonín Profous stated the first written evidence of Hruštice: Johannes, episc. Prag villam Hruztizc in provincia Behinensi sedit morno de Milevsko; which means that the settlement of Hruštice was owned by the Premonstratensians of the Milevsko Monastery established in 1184 - 1187. Along the Vltava River (from Frymburk to Vyšší Brod) there are some first written evidence of the Rožmberk goods near Slupečná dating from 1277 and near Kobilnice, Plískov and Studená dating from 1281.
Historian J.V. Šimák mentions that the forest survey was not finished until 1310 - 1317, and the Frymburk villages are mostly small and radially divided. We can estimate that there were several other small settlements in the Frymburk surroundings besides the settlement of Hruštice. It is evident that in 1317 the Frymburk Church was given the tithe from the fields demarcated to the settlement of Hruštice. In 1317 the settlement of Hruštice was passed into the Frymburk Parish possession and the Premonstratensians of Milevsko conveyed the settlement of Hruštice to the near Premonstratensian Monastery of Schlägl (Austria) so the settlement of Hruštice is called Watnaw there.
To make sure that it is really the settlement of Hruštice, you can look into the Land and Duties Register which mentions Waczlawstifft vel Hruschticzie Watnaw near the J.P.´s house of Frymburk in 1379. The German word stifft means the church establishment which was used in the Czech meaning "Lhota" in the South Bohemia and the name Waczlaw is the name of the local patriot. Therefore the place is called Václavova Lhota. It was established by Václav (hired by the Premonstratensians of Milevsko) who was responsible for the forest clearance, growth burning ,and converting deforest area into pasture-land and arable-land.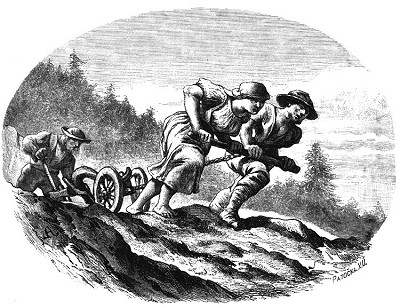 The local patriot was responsible for dividing the land among the settlers. He was given remuneration and some privilege if he stayed in the settlement. New settlers were freed of dues for at least 8 up to 20 years. Then they returned the tithe and did statutory labour several days a year. The settler fields were mostly small and every new settler built his new house and out-buildings near his fields, very rarely right in the village. There is another Lhota called Svatoninova Lhota near Frymburk.
(fs)
Further information:
History of the Vyšší Brod Region
Vltava
Frymburk
Vyšší Brod
Vyšší Brod Monastery