KKK

Soukenická No. 39
Description of the Building:
A one-storey corner house with a classical facade. The street facade is divided by three axis, upstairs are windows with stone window jambs. The ground floor is mostly vaulted, the rooms upstairs have mostly flat ceilings.
Architectural and Historical Development:
The building is of Gothic origin (Gothic and Rennaissance cellars), significantly rebuilt in the Rennaissance period. The facade was slightly renovated during Classicism.
Significant Architectural Features:
left ground floor sections - barrel vault with ribs
cloister vault
left volute in the gable - all stone
a coat of arms in the triangle gable post - stone

History of the House Residents:
At the beginning of the 16th century the house belonged to a burgess Ducháček about whom we know nothing more about. In the 1530s the house was owned by Jan Kutnhanzl who was a town councillor of Český Krumlov in the years 1534 - 1543. After his death his widow Ludmila took care of the house from 1543 to 1554, when she sold it to her son in law, a furrier Kašpar Cedlar. After Cedlar´s death in 1561 the house was bought by a shoemaker Petr, called Dermagen, who came from Svéráz.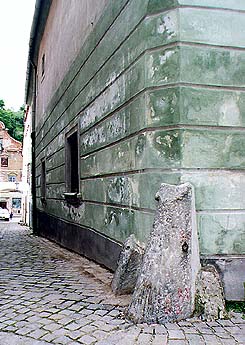 In 1576 Petr sold the house to a shoemaker Ambrož Schmal, who paid it off by 1593. In 1586 Ambrož married Ludmila, who was a sister of Jaroš Stein, and died in 1620. The following owner was a town magistrate Ondřej Walter, who was followed by a stone-mason Jan Stephan. They handed down the house in the family until 1714, when a goldsmith Antonín Mayer moved there. Six years later there lived a wheelwright Šebestián Hiersch and from 1747 Jan Kotzmichl. In the years 1755 - 1772 the house belonged to a goldsmith Felix Leitner and further on until 1819 to the Tragaus. Jindřich Sellner stayed there at least to the 1840s.
Present Use:
World of candles (Svět svíček)