KKK

Rybářská č. p. 6
Location:
Rybářská No. 6
Description of the Building:
One-storey estate created by two annexes in an L-shape. It is built into a hill from the river. It has smooth facades.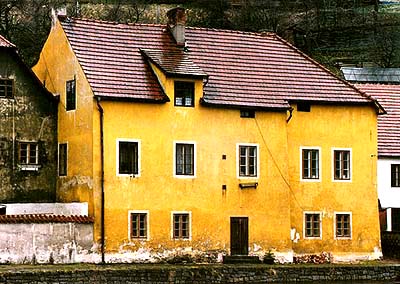 Architectural and Historical Development:
The ground floor by the river consists of three areas, which are barrel vaulted with egg-shaped lunettes The rest of the layout is oval barrel vaulted with quinary lunettes. By the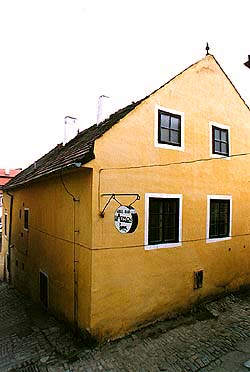 street is a segment barrel vaulted without sectors. On the first floor are flat ceilings. The only central area by the river is vaulted similar to the ground floor. The outer area by the street has plaster ceiling and a cavernous field. Under the roof is a wooden loggia. The oldest part of the building was created in late Gothic style. Complicated development can be witnessed in an offset on the facade by the river. The west wing is probably older, extended in Classical style with the last area on the ground floor. At that time first floor was added, and in added stages vaults were created. Further adaptations took place in 1898, 1910, 1938 and 1962.
History of the House Residents:
The first known owner of the house in 1573 was a currier, Bartoloměj Gojauer. Three years later, a tanner, Ondřej Prošek inhabited this house. He is alleged to be the owner of the house until 1606. After he died, his widow Ferena (Veronika) inhabited the house. In the time frame of 1617- 1638, the house belonged to a tanner, Ambrož Geissler, whose children occupied this house until 1665. During 1654 - 1665, Štefan Geissler conducted a colourman trade in the house, he coloured leather to red. The next inhabitant of the house was, until 1674, an another colourman, Matyáš Lederer. He was replaced by a butcher, Ondřej Schmal, who resided in the house until 1688. This year a black colourman, Lorenc Wenhart moved into the house. His family occupied this house until at least the 1840's, and in this family inherited a colourman's trade. The colourman workshop was removed in 1898. In 1929 a hewer was alleged to be the owner of the house.
Present Use:
Grill bar Babylon, Appartment Nenadovičová