KKK

Rybářská č. p. 34
Location:
Rybářská No. 34
Description of the Building:
One-storey building with three window axes in a modern adapted facade.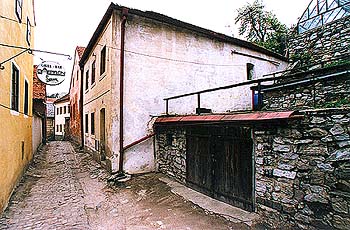 Architectural and Historical Development:
The layout has a right corridor with two wings on the left. A rear area has semicircular barrel vaults. The first floor with the exception of the front part of the hall has cross comb vaults. On the ground floor towards the right rear is a cellar in the rock with semicircular barrel vaults. The house is from the second half of the 15th or beginning of the 16th century. Facade and most likely the hall on the ground floor were additionally adapted in the 18th century. Further adaptations were done in 1909, 1912 and 1926.
Significant Architectural Features:
A cross comb vault on the first floor.
History of the House Residents:
The first known owner of the house, at the beginning of the 16th century, was a cutter named Vaněk. After a few unknown owners, in 1581 the house was acquired by a shoemaker, Leonard Tenk. In 1588 a gun maker Šebestián Posser or Prosser lived there until he was replaced by a can maker, Jan Jiří Dicizinger, who also worked for the Český Krumlov castle. In 1633 ownership of the house was taken over by a butcher, Melichar Faber. From 1683 - 1722 the house belonged to a draper, Matyáš Weigl. Hereafter, the house belonged to a hewer, a grenadier, a furrier, and, in 1929, a tinsmith.
Present Use:
Residential house.