KKK

Rooseveltova No. 30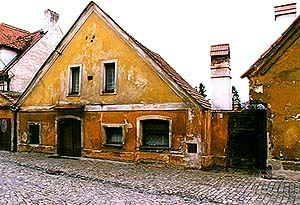 Location:
Rooseveltova No. 30
Description of the Building:
Ground building on the side of a hill, with a stylelessly adapted modern facade. Rear facade with wooden corridor, posts, wooden arcs and shingle roof is very picturesque and has an essential importance in the whole estate. Unremarkable layout with flat ceiling premises. Cellars in level with bottom terrace, arched with barrel vaulting, into oval passes. In the left part of the layout the cellar is arched with stone barrel vaults with shutter stamps.
Architectural and Historical Development:
The oldest part of the building is the left section with a stone cellar, possibly from the middle of the 17th century. The rest of the building was most probably adapted in the time of Classicism with usage of older masonry, while folded-in facade and windows located lowly above the landscape give evidence about the object`s old age. Object of average architectural value. The house is consequential in the estate panorama above the river.
History of the House Residents:
This little house, which in the 16th century had the same value as the house next door Rooseveltova No. 29, was built some time in the first third of the 16th century. At the beginning of the 1540`s some Prokeš was known to be the owner of the house. He lived here until his death sometime in the 1550`s. After this, his brother Klíma inherited the house. After Klíma's death, Anna (either his widow or his daughter) sold the house in 1569 to colourman Jakub Lauterwein. In 1591, a tailor, Hans Kirchner bought the house from Jakub. He lived there with his family until 1601 After which the house was owned by Jiří Pankhoffer, after whom appeared, in 1624, a weaver Ondřej Schütz. From 1633 - 1649 the house belonged to štorýř (putting barrels into cellars or rolling them out) Antonín Grindr. From 1649 to 1664 to Martin Seidl. After Martin came Řehoř Günthers for a short time and weaver Ondřej Paukner (in the same year). In the years 1691 - 1757 Ferdinand Walter inhabited this house, followed by Josef Schnelzer. From 1765 to 1801, Bernard Proscho inhabited the house. In the first half of the 19th century,the house was inhabited by Tomáš Ambrož (until 1818), Josef Miko (1818 - 1836) and from 1836 Ignác Diebel.
Present Use:
Residential house.