KKK

Latrán No. 52, Klášterní Street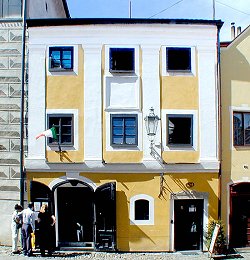 Location:
Latrán No. 52, Klášterní Street
Description of the Building:
Two story house with a square floor plan with a grand pilaster order in the front. The pilasters run up to the attic with windows.
Architectural and Historical Development:
This is a late Gothic house that was modified during Classicism.
Development of facade:
From the Middle Ages and Renaissance period there were not any findings, apart from the fragment of medieval plaster on the ground-floor. In the early Baroque period the facade was newly articulated with a tall pilaster finished by a cavetto head ledge. The articulation of facade on the ground-floor was not preserved, we can assume it was filled with a plastic ashlar. In that period an ornamental portal was fixed into the entrance but only a doorsill was preserved.

The facade was little by little articulated with a grey-and-white-coloured, ochre-and-white-coloured, purple-and-white-coloured scheme.In the Classicism period the facade was covered in a green-and-white-coloured coat of paint after some particular adaptations of the house had been done. In the second half of 19th century the facade with a new adaptation of the ground-floor was provided with several mono-chromium coats of paint. In 1996 quite a successful restoration of the plaster was done with the use of lime paint and a white-and-ochre-coloured coat of paint, inspired with the finding situation.
Significant Architectural Features:
The front of the house is historically significant. The first floor has barrel vaulting with caps. The cellar also has barrel vaulting.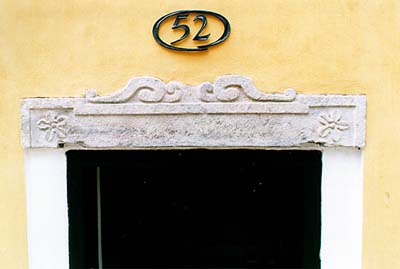 History of the House Residents:
Existence of this house is recorded in writing for the first time at the beginning of the 1540s. In 1541, foot-soldier Blažek Vezapec (or Vrapac) drafted a testament giving the house to his wife and children. His family lived here until the beginning of the 1550s. During that decade, the house was owned by an anonymous maker of metal ornaments. The house must have been then acquired by the Rosenbergs because Wilhelm von Rosenberg sold it in 1599 to pouch-maker Ondřej Gartner. In 1599, Gartner exchanged this house for a bigger one in Latrán No. 37 with Anna Marchalová. The new proprietor lived here with her son until 1602, when paper-maker moved in. Assistant overseer of the granary Tomáš Schaffer owned the house from 1674 to 1699; then it was owned by equerry Vilém Pree. Václav Pree who lived in the house between 1738 and 1749 was a clerk at the prince\'s court. No detailed information is available about the later owners of this house besides their names.
Present Use:
Pizzeria Nona Gina.