KKK

Latrán No. 1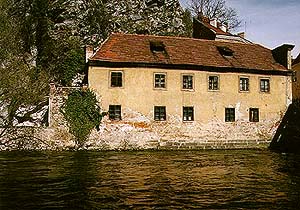 Location:
Latrán No. 1
Even today, this house is referred to as the bathing house because it was used by barber-surgeons and bath keepers as early as in the sixteenth century.
Description of the Building:
Two story building with smooth-surfaced facade.
Architectural and Historical Development:
The bathing house is mentioned in the city privilege from 1347. It is a Gothic house that was originally adjacent to the city walls and gate (torn down in around 1835). The house has one story and a smooth-surfaced outside facade. During the Classicist period, the house was reconstructed and the North wing was added. There is a barrel vault on the ground floor, and sunken mirrors in the second story plasters.
Significant Architectural Features:
There are remnants of the castle fortification in the garden adjacent to the house.
History of the House Residents:
The house is mentioned for the first time in 1540, but the bathing house had most likely been there much earlier. In 1540, barber-surgeon and bath keeper Mates died, selling the house and the bath prior to his death to barber-surgeon and bath keeper Bostl (Šebestián) Šváb. Šváb died in the beginning of the 1670s and Wolfgang Eisenfeind, also a barber-surgeon who owned the bathing house near the Kájov bridge (No. 56), had moved into the house. In 1577, Wolfgang ceased his bath house activities, moved to Dlouhá No. 98 and sold the house to Melichar Marth, a barber-surgeon and bath keeper from the city of Mikulov. Before 1580, the house with bathing house was sold again, this time to Mates Habenstier, who in turn sold it in 1580 to Zikmund Pichler. Zikmund and Lucie Pichler had four daughters (two being twins), and one of them, Markéta, who was born before 1591, had been a victim of great tragedy that took place in the Krumlov castle on the night of February 18, 1608. At that time, the Český Krumlov castle was inhabitated by the mentally ill Julius d\'Austria, an illegitimate son of the Emperor Rudolf II. von Habsburg, who had chosen Markéta Pichlerová as his "close companion" and later brutally slaughtered her. The citizens of Český Krumlov blamed Lucie Pichlerová, the mother of Markéta, and insisted that the family leave the city. However, the Czech chamber in Prague did not desire any further disturbances, and the Pichler family was allowed to stay. Zikmund Pichler died in 1621, and Lucie sold the house and bath a year later to Kryštof Male under the condition that he would let her live there until her last day. She died in 1628. Subsequent owners were all bath keepers, from 1679 titled bath keepers, common surgeons or surgeons, as in the case of Bartoloměj Weiber, who inhabited the house with his family between 1772 and 1806. Bath keepers as well as "surgeons" lived in the house until the beginning of the Nineteenth century.
Present Use:
Hubert - hunting shop, Toys and jewelery, Antique shop, Confectionery Terasa, Army Shop, Fishing tackle - U Pstruha, Akva - Tera, Exchange office, Antique shop Nostalgie