KKK

Horní Brána 2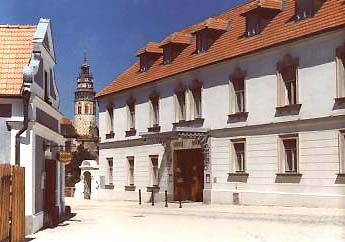 Location:
Horní Brána 2, Town Theatre
Description of the building:
The extensive layout of the building forms a dominating feature of the town, situated on the southern side of the meandre of the Vltava River. Connected to the main layout of the building Horní Brána 2 is an adjacent building which serves technical and operational purposes. The overall expression of the mass and facade of the building is Neoclassicist - in the court above the entrance is the date 1877. The large windows are mostly on the southern side, and covered by wooden shutters. The main building iis articulated by windows with pronounced plastic stucco shadowing and with receding voussoirs. The adjacent building is however articulated by stucco archways of windows between regular pillars. The articulated facades on the southern side above the Vltava is marked by large-scale archways in the plaster.
History of the construction:
Originally an agricultural settlement sometime in the 16th century, in the 18th century a roadside tavern, today the building serves as the town theatre.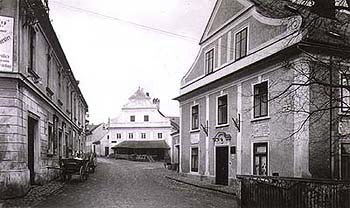 Significant architectural details:
Richly articulated facade
History of the residents:
In 1750 the Český Krumlov magistrate had the empty municipal house equipped with a beer tavern and rented it out. the so-called "New Pub" was sold in 1782 to František Stockinger for 1550 gold-pieces with interest of 3 gold-pieces. Part of the building, across from the town powderhouse, was later an addition on which previously stood a smithery workshop and woodshop. František Stockinger requested this property in 1787 from the magistrate for the purpose of building a stable and outbuilding for vehicles. He had to repeat his request the next year, when it was evidently granted. He then built a room above the stable and carriage-house. On the 1st of March 1794, Stockinger also bought a fruit orchard. The building remained in the Stockinger family at least until the 1840\'s.
Present usage:
Town theatre
Notary public\'s office - Kamil Hrdina