KKK

Coats-of-arms of Aristocratic Families in Český Krumlov
The historical development of the town is marked mainly by four aristocratic families which used Český Krumlov as their residential town - the Lords of Krumlov, the Rosenbergs, Eggenbergs and Schwarzenbergs. The beginnings of the castle and the settlement in the area under the castle relate to Lords of Krumlov who settled there in the middle of the 13th century. We are unlikely to meet the Coat-of-arms of the Lords of Krumlov - a green five-petalled rose - through the town but the emblem colours of this branch of the family of the Vítkovcis can be met there as they form the basis of the town flag.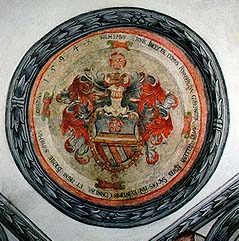 Perhaps the most significant marks are those of the family of the Rosenbergs who had their residence in Český Krumlov for three centuries (1302 - 1602) and that is why we can meet the Rosenberg Coat-of-arms - a red five-petalled rose - literally with each step. The town lived through the greatest cultural and economical bloom during the Renaissance, under the rule of Wilhelm von Rosenberg and thus there are mostly allied emblems of Wilhelm and his wives - Katherine of Brunschwig, Mary Ann of Baden or Polyxena of Pernštejn. The "golden Rosenberg era" is reflected also in the evolution of the town emblem as we can find a red five-petalled rose on it as well (see Evolution of the Český Krumlov Emblem). The symbol of five Rosenberg roses can be found also in the emblem of the family of Eggenbergs as it represents the Krumlov dominion there which the Eggenbergs acquired from emperor Ferdinand II von Habsburg in 1622.
The Eggenbergs had their residence in the castle residence of Český Krumlov in the years 1622 - 1719 and thus we can find also the Eggenberg Coat-of-arms in the town. Most often we meet allied emblems of John Christian I von Eggenberg and his wife Mary Arne von Eggenberg, born from Schwarzenberg, here as it was under their rule that there were huge construction works in progress. The emblem sign of the family - a triplet of ravens - can be found in the town emblem too.
| | | | | |
| --- | --- | --- | --- | --- |
| | | | | |

For nearly the next three centuries Český Krumlov belonged to the family of the Schwarzenbergs who also had an important influence on the town´s history. That is why we can find not only the Schwarzenberg Coat-of-arms in Český Krumlov but also the use of the Schwarzenberg heraldic colours - blue (greyish) and silver (white) - can be traced in the town´s architecture.
(mj)